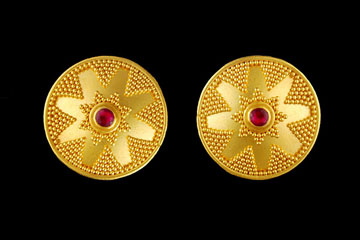 For over a century, Pamela Farland's family, the Maumejean's, created stained glass for major churches and cathedrals all over France, Europe and South America, so it is no surprise that Pamela comes to the world of jewelry from the standpoint of color.
Her longtime interest in Archeology and ancient worlds connected with the beauty of 22 karat gold, the lushness of it's tone and it's sensuous feel to the touch.
She worked for many years as an art framer, collaborating closely with artists , creating "settings" so to speak for their pieces, adorning and enhancing the effect of their art. This path led her to the Kulicke-Stark Academy of Jewelry Art : Robert Kulicke a talented and renowned picture framer, as well as a fine artist in his own right, had created a school devoted to the teaching and transmitting of the art and techniques of ancient goldsmiths.
For Pamela the discovery and learning of jewellery making brought together the different parts of her experience and became a life long passion.
She worked for 11 years as Master Jeweler at the Metropolitan Museum's Reproduction Studio, specializing in hand wrought pieces of 22karat gold, working with curators to create pieces from the collection, to be sold in the museum's shops. She also developed her own collection of one of a kind jewelry for collectors and galleries/stores.
Today she teaches Classical Goldsmithing at the 92 Street Y in New York, sharing the knowledge aquired though the years and works in her studio in Harlem.
She creates colorful and unique pieces, setting precious, semi precious stones, pearls or antiquities, such as coins or arrowheads in 22K gold.
They reflect the road travelled, the past, the present and the timeless pleasure of adornment.